Chery and WEY go to Frankfurt
with eyes on the European market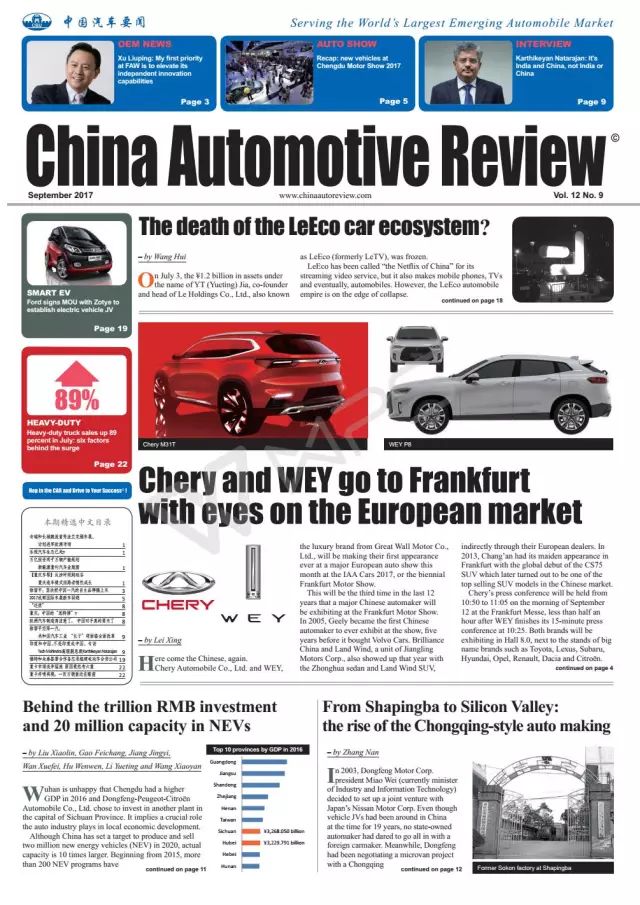 英文汽车杂志《China Automotive Review》头条刊发2017年第67届法兰克福车展报道,题为"Chery and WEY go to Frankfurt, with eyes on the European market(奇瑞和长城魏派亮相法兰克福车展 瞄准欧洲市场)",揭秘奇瑞参加法兰克福车展的雄心,节选如下:
Chery Automobile Co., Ltd. and WEY, the luxury brand from Great Wall Motor Co., Ltd., will be making their first appearance ever at a major European auto show this month at the IAA Cars 2017, or the biennial Frankfurt Motor Show. This will be the third time in the last 12 years that a major Chinese automaker will be exhibiting at the Frankfurt Motor Show.
奇瑞汽车有限公司和来自长城汽车有限公司的豪华品牌WEY,将于本月在2017年法兰克福车展上首次亮相。这将是过去12年来中国汽车制造商在法兰克福车展上第三次亮相。
Chery's press conference will be held from 10:50 to 11:05 on the morning of September 12 at the Frankfurt Messe, less than half an hour after WEY finishes its 15-minute press conference at 10:25. Both brands will be exhibiting in Hall 8.0, next to the stands of big name brands such as Toyota, Lexus, Subaru, Hyundai, Opel, Renault, Dacia and Citro?n.
奇瑞新闻发布会将于9月12日上午10时50分至11点05分在法兰克福Messe举行,距离WEY在10点25分结束其15-分钟的新闻发布会不到半个小时。这两个品牌都将在8号展厅展出,旁边是丰田、雷克萨斯、斯巴鲁、现代、欧宝、雷诺、达西亚和雪铁龙等知名品牌。
Chery is the country's 10th largest automaker in terms of sales volume (7th in Chinese brand passenger vehicle sales), and the country's leading passenger vehicle exporter, having led that category for 14 consecutive years.
奇瑞是中国销量排第10的汽车制造商之一(中国品牌乘用车销量排名第7),以及中国最大的乘用车出口商,连续14年领先。
Unlike Geely's appearance in Frankfurt in 2005, which was primarily to learn and understand the international markets, and Chang'an's in 2013, which was to use a global stage to unveil a new model for its home market, Chery is showing up with serious intentions of entering the European market.
与2005年吉利在法兰克福的亮相不同,吉利主要是为了学习和理解国际市场,也和2013年的长安汽车不同,长安是利用全球舞台为其本土市场推出一款新车型,奇瑞向我们展示了其进入欧洲市场的强烈意图和决心。
It plans to reveal a compact SUV codenamed M31T based on its M3X compact/mid-size sedan/SUV platform dedicated to international markets. The global premiere heralds Chery's so-called "Generation 3.0" era product matrix and details of its "3.0" era strategy are expected to be announced at the show. It also plans to communicate with local dealers about new measures and efforts to expand into developed European markets.
奇瑞计划展示一款基于M3X紧凑/中型轿车/ SUV平台的紧凑型SUV,代号M31T,该平台致力于国际市场打造。全球首映式预示着奇瑞所谓的"3.0时代"的产品矩阵,其"3.0"时代战略的细节预计也将在展会上公布。它还计划与当地经销商就新措施和扩大欧洲市场的努力进行沟通。
The M31T will have 1.6TGDI or 1.5TCI hybrid powertrain options meeting Euro-VI emissions standards, and is expected to lead a range of new models into the European markets that will be offered with electrified powertrain options. The model has been designed for "young, urban, progressive-minded customers, and will meet the needs and expectations of European private and fleet buyers in terms of design, quality, dynamics and crash worthiness," according to a Chery statement. It also plans to establish a European R&D Center, an effort that is being spearheaded by James Hope, Chery's former design director.

M31T拥有1.6TGDI或1.5TCI混合动力传动系统的选择,符合欧VI排放标准,预计将引领一系列新车型进入欧洲市场,并将提供电动动力总成选项。根据奇瑞公司的一份声明,该车型是为"年轻、城市、有进步意识的客户"所设计的,将"满足欧洲私人和整车买家在设计、质量、动力和碰撞可靠性方面的需求和期望"。奇瑞公司还计划建立一个欧洲研发中心,由奇瑞前设计总监詹姆斯?霍普牵头。
The M3X is one of the four major platforms Chery has, with the other three being the M1X sub-compact/compact sedan platform, the T1X compact SUV platform and the A3X sub-compact SUV platform. The M1X and T1X serve as core platforms of Chery's "2.0" era and have already led to models such as the Tiggo 7 and 5 SUVs, as well as the Arrizo 5, 5 Sport and 7. The M3X and A3X platforms are expected to underpin higher-end cars, MPVs and SUVs headed by the M31T. The NEV dedicated EV platform, which already has the eQ series small EVs, will complement these four platforms.
M3X是奇瑞的四大平台之一,另外三个平台包括M1X小型车/紧凑型轿车平台,T1X紧凑型SUV平台和A3X小型SUV平台。M1X和T1X作为奇瑞"2.0"时代的核心平台,已经引领了像瑞虎7和瑞虎5这样的SUV,以及艾瑞泽5、艾瑞泽5 Sport和艾瑞泽7等车型。M3X和A3X平台预计将为高端轿车、MPV和SUV提供支撑。已经拥有eQ系列小EVs的NEV专用EV平台将对这四个平台进行补充。
So far, Chery already has 10 overseas plants in the world. CEO Dr. Chen Anning has said that Chery plans to enter the European market within five years with North America taking a bit more time to enter.
到目前为止,奇瑞已经拥有10家海外KD工厂。首席执行官陈安宁博士说,奇瑞计划在5年内进入欧洲市场,而北美则需要更多时间准备。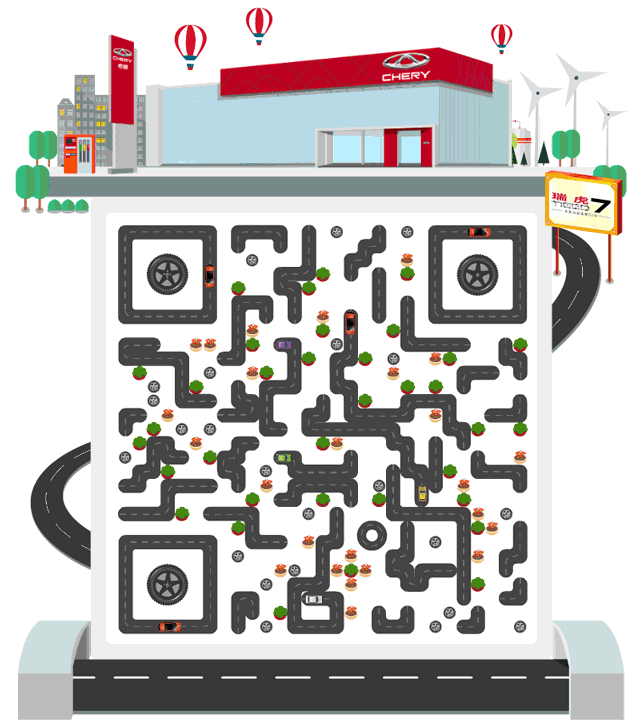 ? 本刊所有图片、文字及版式版权均为【中国汽车要闻】(China Business Update)所有,未经授权许可,不得复制或用作其它商业用途,其他网站及平面媒体如需转载,须注明作者及出处。

中国汽车要闻 已入驻以下平台